Craving something decadent, creamy, and utterly delicious? Look no further! We have concocted the perfect dessert recipe that will transport your taste buds straight to paradise – Heaven in a Bowl! This sublime blend of fudge brownies, Reese's, vanilla pudding, and a splash of peanut butter goodness is bound to become your go-to treat for all celebrations, or, let's be honest, any regular day!
Dive into Decadence with "Heaven in a Bowl" – Your New Favorite Dessert Recipe!
Prep Time: 20 minutes
Cook Time: 30 minutes
Total Time: 50 minutes (+ chilling time)
Servings: 12
Ingredients:
1 Pkg of Fudge Brownie Mix
2 Pkgs of Miniature Reese's
4 Cups of Cold 2% Milk
2 Pkgs of Instant Vanilla Pudding
1 Cup of Creamy Peanut Butter
4 Tsp of Vanilla Extract
2 Cans of 8-oz Thawed Cool Whip
Step-by-Step Guide to Crafting Heaven in a Bowl:
1. Bake the Brownies:
Begin by preparing the fudge brownie mix according to the package instructions. Let it cool and crumble it into bite-sized pieces.
2. Prepare the Pudding:
In a large bowl, whisk together the cold milk and instant vanilla pudding packages until the mixture is smooth and thick.
3. Peanut Butter Perfection:
In a separate bowl, blend together the creamy peanut butter and vanilla extract until it reaches a smooth consistency.
4. Layering the Goodness:
In a large serving bowl, start layering your dessert. Begin with a layer of crumbled brownies, followed by a layer of peanut butter mixture, a sprinkle of miniature Reese's, and a generous spread of vanilla pudding. Repeat the layers until all ingredients are used, finishing with a final layer of pudding.
5. Top it Off:
Crown your creation with a lavish layer of thawed cool whip and garnish it with the remaining miniature Reese's for an extra touch of heaven!
6. Chill and Serve:
Let your heavenly creation chill in the refrigerator for at least 2 hours before serving. This allows the flavors to meld together, creating a symphony of taste in every bite!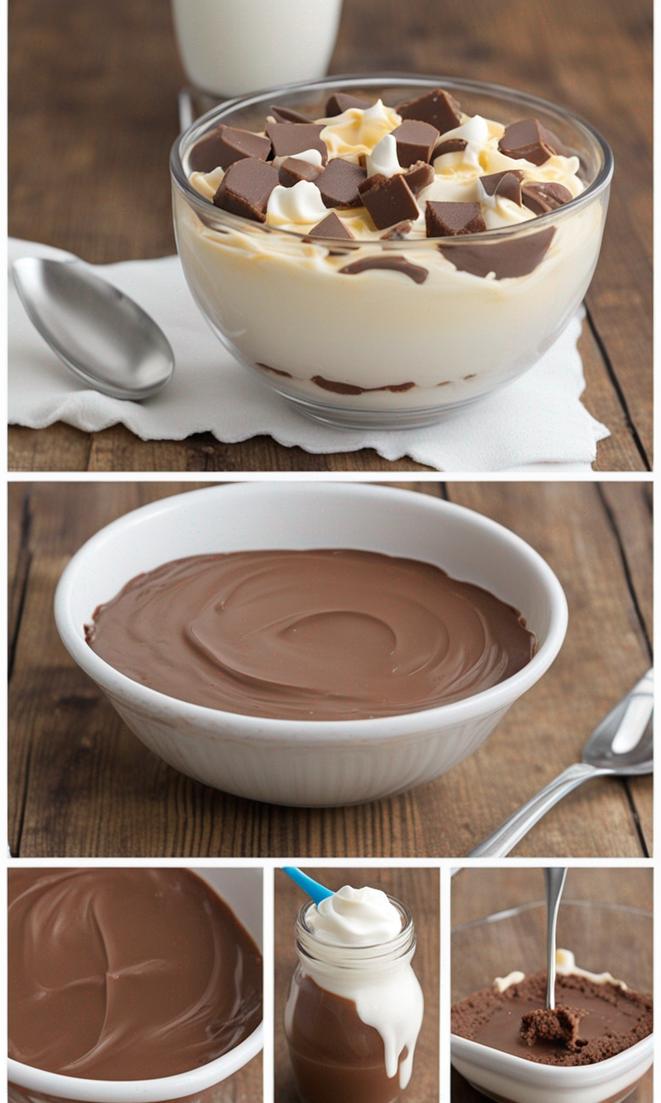 The Secrets Behind Perfect "Heaven in a Bowl"
Every ingredient in this recipe plays a crucial role in creating the ultimate heavenly experience. The fudge brownie's rich chocolatey goodness forms the base, while the creamy peanut butter and vanilla extract infuse a depth of flavor. The cool whip and Reese's add a delightful contrast of texture and taste, ensuring every bite is a piece of heaven!
Serving Suggestions
Pair with Ice Cream: A scoop of vanilla or chocolate ice cream complements the layers of this heavenly dessert.
Garnish with Nuts: Add a sprinkle of chopped peanuts or almonds for an extra crunch.
Drizzle with Chocolate Syrup: For chocolate lovers, a drizzle of chocolate syrup takes this dessert to the next level!
Frequently Asked Questions (FAQs)
Q: Can I use a different type of pudding?
A: Absolutely! Feel free to experiment with chocolate or butterscotch pudding for a different flavor profile.
Q: Is there a substitute for cool whip?
A: Yes, homemade whipped cream is a fantastic alternative to cool whip.
Q: Can this dessert be made ahead of time?
A: Certainly! You can prepare "Heaven in a Bowl" a day in advance and let it chill in the refrigerator overnight.
A Heavenly Experience Awaits!
Indulge in this mouth-watering, creamy, and incredibly delicious Heaven in a Bowl! It's a versatile dessert that's perfect for holidays, potlucks, or a sweet family treat. Trust us; one bite of this divine concoction, and you'll understand why it's named so! Don't forget to share your heavenly experience and tag us on your socials using #HeavenInABowl!
Did this recipe make you feel like you've found Heaven in a Bowl? Don't forget to Pin it to your favorite dessert board on Pinterest and share the love with fellow sweet-tooth enthusiasts!