When it comes to finding a dish that perfectly epitomizes comfort and satisfaction, there's nothing quite like an Amish Country Casserole. Deeply rooted in tradition, this casserole is not just food; it's an experience. Let's delve into this delectable dish and discover how you can make it in your kitchen with this fail-proof recipe!

Prep Time: 20 minutes
Cook Time: 30 minutes
Total Time: 50 minutes
Servings: 6-8
Ingredients:
1.5 pounds of lean ground beef
1 chopped onion
1 pound of pasta
1 tablespoon of olive oil
1 cup of milk
2 teaspoons of minced garlic
One 22.6-ounce can of condensed tomato soup
One 22.6-ounce can of condensed mushroom soup
Salt and black pepper to taste
1/2 teaspoon of paprika
1/2 teaspoon of dried parsley (optional)
Shredded cheese of your choice (optional)
Instructions:
Pasta Preparation: In a large pot of boiling salted water, cook the pasta according to package directions until al dente. Drain and set aside.
Sauté Ground Beef and Onions: In a large skillet, heat olive oil over medium-high heat. Add the chopped onion and sauté until translucent. Incorporate the minced garlic and continue sautéing for an additional 2 minutes. Add the ground beef, breaking it apart with a spatula. Cook until the beef is browned and cooked through.
Add Soups and Seasonings: Reduce the heat to medium. Pour in the condensed tomato and mushroom soups, followed by the milk. Stir well, ensuring everything is well-combined. Season with salt, black pepper, paprika, and dried parsley if using. Let the mixture simmer for about 10 minutes, stirring occasionally.
Combine and Bake: Preheat your oven to 350°F (175°C). In a large baking dish, combine the cooked pasta and beef mixture, ensuring that the pasta is well-coated with the sauce. If you're using shredded cheese, sprinkle it generously over the top.
Place the baking dish in the oven and bake for 20 minutes, or until the cheese is bubbly and golden. If not using cheese, bake until the casserole is heated through.
Serve and Enjoy: Remove from the oven and let it sit for a couple of minutes before serving. Dive into this delightful dish and savor every bite!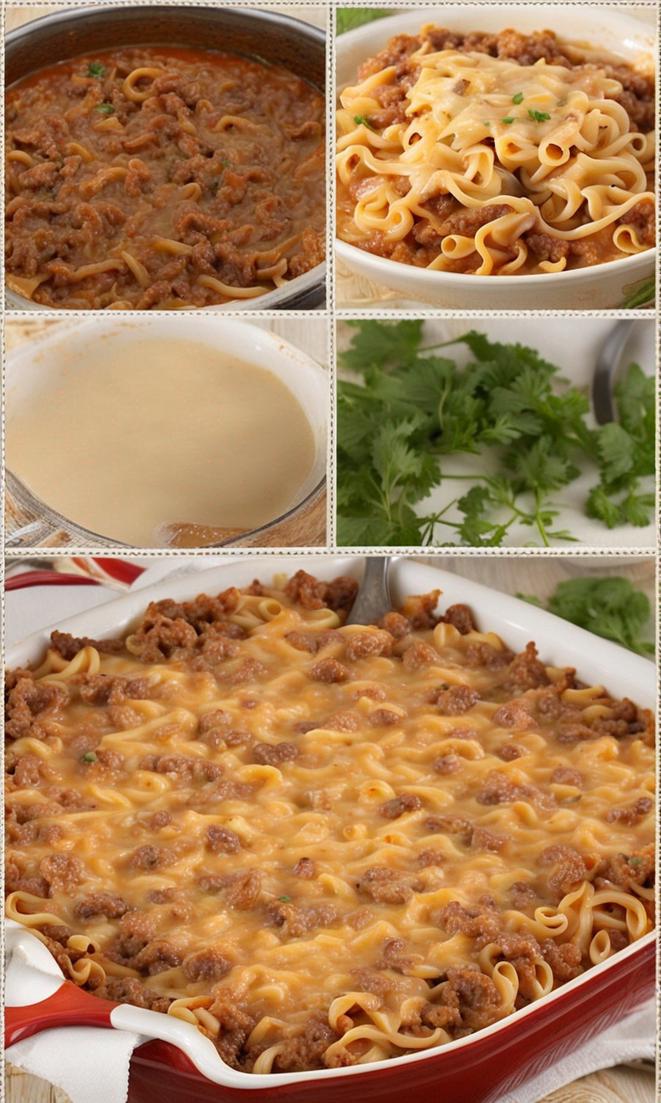 The Secrets Behind Perfect Amish Country Casserole
The brilliance of the Amish Country Casserole lies in its simplicity, but a few secrets can elevate your casserole game:
Quality Ingredients: Always opt for the freshest ingredients. Especially the ground beef; the leaner, the better.
Personal Touch: While the recipe provides a solid foundation, feel free to add a personal twist like a dash of red chili flakes for heat or a sprinkle of fresh basil for a herbaceous touch.
Consistency: Ensure the mix isn't too dry or runny. Achieving the right consistency guarantees every bite is a burst of flavor.
Serving Suggestions
Serve the Amish Country Casserole with a side of:
Green salad with a tangy vinaigrette.
Crusty bread to mop up the delicious sauce.
Steamed or roasted vegetables.
A refreshing beverage like iced tea or lemonade.
Cook's Notes:
Feel free to add some vegetables like green bell peppers or mushrooms to the beef mixture for added flavor and nutrition.
You can customize the cheese topping by using your favorite cheese blend or even adding a sprinkle of crushed crackers for a crunchy texture.
Leftovers of Amish Country Casserole can be refrigerated and reheated for delicious, fuss-free meals on busy days.
Serve this casserole with a side salad or some crusty bread for a complete meal.
Frequently Asked Questions (FAQs)
Can I use a different type of meat? Absolutely! Ground turkey or chicken works just as well.
How long can I store leftovers? Stored in an airtight container, it lasts 3-4 days in the refrigerator.
Can this be made vegan? Swap the ground beef for lentils or a meat substitute, and use a plant-based milk and cheese.
Warm, hearty, and laden with flavors that transport you straight to the heart of Amish country, this casserole is bound to become a favorite in your household. Whether you're gathering for a family meal or just need some rich comfort food, the Amish Country Casserole is your perfect culinary companion. Happy cooking!
Loved this recipe? Make sure to pin it to your favorite Pinterest board so you can easily find it again!