In the world of salads, the classic deli-style chicken salad has always stood out as a timeless favorite. From elegant luncheons to quick family meals, it's versatile, delicious, and surprisingly easy to make! In this guide, you'll learn how to craft the perfect Deli-Style Chicken Salad using simple, high-quality ingredients.
Prep Time: 15 minutes
Cook Time: 25 minutes
Total Time: 40 minutes
Servings: 4 to 5
Ingredients
500 grams of boneless chicken breast – diced.
300 grams of boneless chicken thigh – diced.
2 Tbsp of olive oil.
½ Tsp of sea salt.
¼ Tsp of black pepper.
½ Tsp of granulated onion.
⅔ Cup of mayonnaise.
3 stalks of celery – diced.
Additional sea salt and black pepper for seasoning.
Instructions
1. Seasoning the Chicken
In a mixing bowl, combine the diced chicken breast and thigh.
Drizzle with olive oil, ensuring each piece is well-coated.
Sprinkle sea salt, black pepper, and granulated onion over the chicken. Mix well, making sure all pieces are evenly seasoned.
2. Cooking the Chicken
Heat a large skillet over medium heat.
Once hot, add the seasoned chicken to the skillet.
Cook the chicken, turning occasionally, until golden brown and fully cooked. This should take about 20-25 minutes.
Once cooked, transfer the chicken to a plate and allow it to cool.
3. Creating the Salad Base
In a large mixing bowl, combine the mayonnaise and diced celery.
Add the cooled chicken to the bowl. Mix well until all ingredients are incorporated.
4. Final Seasoning
Taste the chicken salad. If needed, add additional sea salt and black pepper to enhance the flavors. Mix well.
5. Serving
The Deli-Style Chicken Salad is best served chilled. You can refrigerate it for an hour before serving or enjoy it immediately.
Serve it on a bed of greens, between slices of your favorite bread, or with crispy crackers!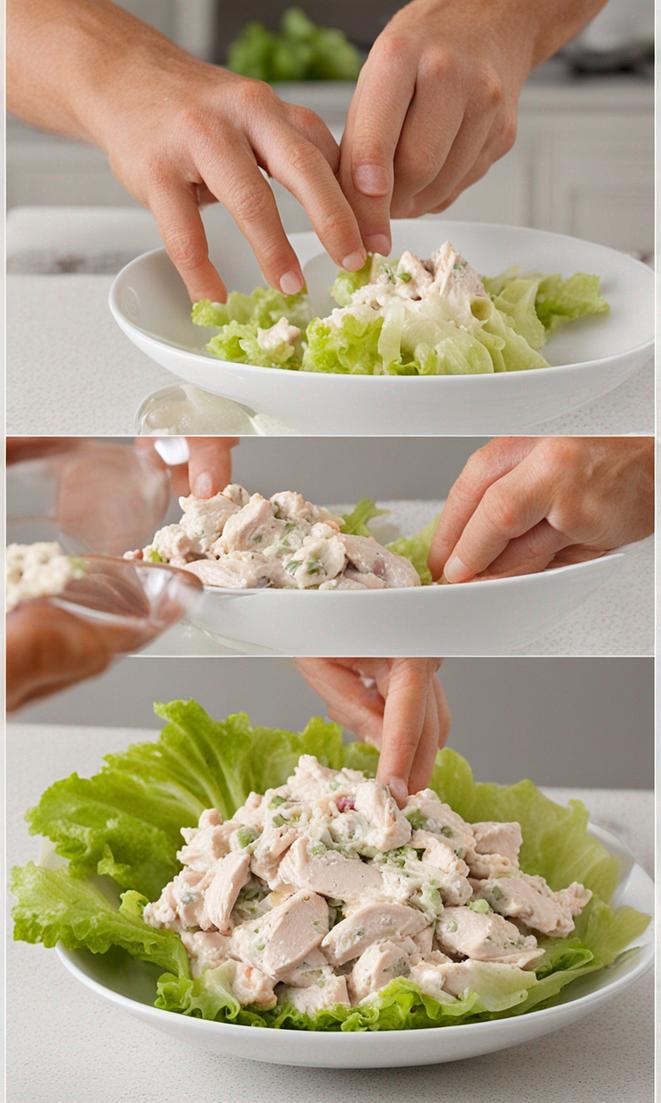 The Secrets Behind Perfect Deli-Style Chicken Salad
While the ingredients might seem straightforward, the magic lies in their combination and the little details.
Quality Matters: Always choose fresh, organic chicken. It lends a richer taste and texture.
Season Right: Don't skimp on the granulated onion! It gives a unique depth to the flavor profile.
Chill Out: This salad tastes even better when chilled for a couple of hours, allowing flavors to meld.
Serving Suggestions
Sandwich Delight: Use artisanal bread, like rye or sourdough. Add lettuce, tomatoes, and perhaps a slice of Swiss cheese.
Wraps: Go for a low-carb option by wrapping the chicken salad in large lettuce leaves.
Salad Bowl: Mix with fresh greens, cherry tomatoes, and a sprinkle of feta cheese. Drizzle with a light vinaigrette.
For more delicious salad recipes, check out our Gourmet Salad
Frequently Asked Questions (FAQs)
Q: Can I use only chicken breast or thigh?
A: Absolutely! While the mix offers a richer taste, using one or the other works well too.
Q: Any alternative to mayonnaise?
A: Greek yogurt or sour cream can be used as healthier alternatives, though it changes the flavor slightly.
📌 Love this recipe? Pin it!
If you've fallen in love with our Deli-Style Chicken Salad, make sure to save it to your favorite Pinterest board. Let's spread the yumminess around!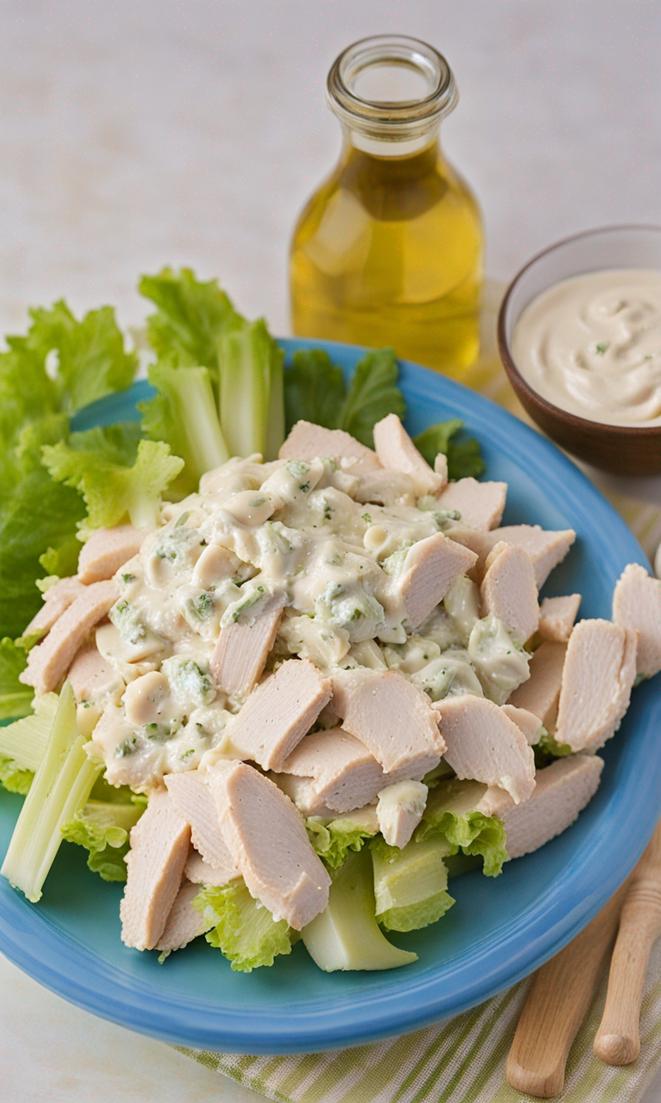 This Deli-Style Chicken Salad recipe brings together the savory flavors of chicken with the creamy texture of mayonnaise and the crunch of celery. Perfect for all occasions, it's sure to become a staple in your meal rotations. Try it out and relish the taste of a gourmet deli right at home!
Pro Tip: For an added twist, consider throwing in some nuts or dried fruits for added texture and flavor!
Remember, the key to the perfect Deli-Style Chicken Salad lies in the quality of the ingredients. Choose fresh, high-quality chicken and premium mayonnaise to truly elevate the taste.
If you loved this recipe, don't forget to share it with your friends and family! And as always, stay tuned for more mouthwatering recipes coming your way.
Do you have a favorite way to enjoy your chicken salad? Drop your thoughts and suggestions in the comments below!